CONTENTS
March 2001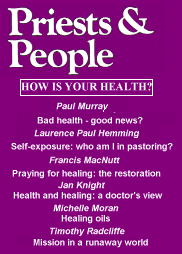 Click here to buy
this Issue
What is the relationship between health and holiness? Paul Murray, who teaches spirituality at the Angelicum in Rome, shows how the tradition has understood the suffering that undermines health. 'What matters ultimately, whether we find ourselves in good physical health or bad, is the discovery, in faith, that Christ is now living his life within us.'
Self-exposure: who am I in pastoring?
Today our pastoral care is strongly influenced by the methods of therapy. What understanding of the self do these methods presuppose? Laurence Hemming, who lectures at Heythrop College, University of London, and at Allen Hall, examines this question and cautions: 'If we use methods derived from psychiatry and psychotherapeutic practice in pastoral care at all, we must be aware of where they come from, and that they bring with them attendant dangers.'
What is health?
Leon Pereira, a former medical doctor who is now a Dominican friar, offers a brief reflection on the subject of health.
Praying for healing: the restoration
What has the Church's attitude been to healing? Francis MacNutt wrote the best-selling book Healing in Florida in 1974, and is now a director of Christian Healing Ministeries based in Florida. Here he describes how the Church's attitude has become more hopeful, but also how there has been a revolution in the way medicine now values the role of prayer in healing.
Pastoralia: Healing oils
The Church's liturgy has always appealed to the senses. Michelle Moran, who is Director of Training for the Sion Catholic Community for Evangelisation, reminds us of the importance of the use of oils in worship, especially healing oils.
Mission in a runaway world
Christianity is essentially missionary, but in recent years there has been uncertainty about how that mission is to be carried out. Timothy Radcliffe, Master General of the Dominicans, gave an address recently to SEDOS (Service of Documentation and Study) in Rome, in which he suggested that 'our missionary spirituality must be sapiental...the missionary may be the bearer of this wisdom through presence, epiphany and proclamation'. What follows is an edited version of the talk.
Correspondence
Preaching and teaching the Word
Mgr Kieran Heskin, a Vicar General in the Leeds diocese, here offers some reflections on the lectionary readings for the Sundays and Triduum liturgies in the month of April.
Postscript
Original Sin


---
Books
   REVIEWED BY MICHAEL ROBSON OFM CONV
Francis of Assisi: Early Documents, 1. The Saint
Edited by Armstong, Hellman and Short
, £40 and £20
Tablet Bookshop
Price: £ Tel: 01420 592 974
   REVIEWED BY EDWARD YARNOLD SJ
Understanding the Spritual Exercises
Michael Ivens SJ
Inigo Text Series, £20
Tablet Bookshop
Price: £ Tel: 01420 592 974
   REVIEWED BY PETER SLATTERY
Come Holy Spirit help us to pray
Benedict Heron
New Life Publishing, £4.99
Tablet Bookshop
Price: £ Tel: 01420 592 974
---