CONTENTS
May 2001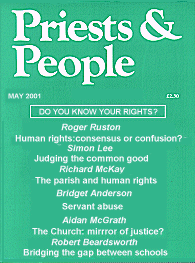 Click here to buy
this Issue
Who defends the poor?
Human rights: consensus or confusion?
Where does the Church stand in the human rights debate? Roger Ruston, who taught moral theology for years at Oxford and is now doing research for the Christendom Trust, describes the philosophies behind different understandings of human rights. He suggests that the Church should draw on its rich tradition to 'introduce a code of universal rights which will govern its internal relationships'.
The Human Rights Act 1998 came into force in England and Wales and in Northern Ireland last October. How will it affect church communities? Simon Lee, who is Rector and Chief Executive of Liverpool Hope University College and is Emeritus Professor of Jurisprudence at Queen's University Belfast, sees it as a challenge, 'an awesome opportunity to contribute creatively to society through the development of a new constitutional order'.
The parish and human rights
Should a parish get involved in the struggle for human rights? Is such involvement too political? Richard McKay, from the diocese of Clifton, is parish priest of St Nicholas of Tolentino in Bristol. Here he draws on his experience to show that a parish has no alternative.
Servant abuse
Conditions are dire for some of the domestic workers who accompany their employers to the UK. Bridget Anderson, a research fellow at Warwick University, chairs a support organisation for such women and tells the story of many of those who pass through her office in London. 'This office is vital, an important contribution by both the parish and the Diocese of Westminster to the furthering of social justice whose value must not be underestimated.
The Church: mirror of justice?
The Church insists on the importance of human rights, but does she practise what she preaches? Aidan McGrath, former President of the Canon Law Society of Great Britain and Ireland, examines the question and concludes that it is essential that the Church lives up to her teaching: 'what is at stake is the very credibility of the Church as a promoter of human rights in the world'.
Pastoralia
The move from primary school can often be stressful for children. Robert Beardsworth, Youth Officer for the Salford Diocese, describes here the programme created by the diocesan Religious Education Department that he is involved in, which helps children with this difficult transition and which brings together children of different ages with the parish community.
Preaching and teaching the Word
Kevin McKevitt formerly Senior Lecturer in English Literature at Newbury college, is married with two children and is a permanent deacon in the Diocese of Portsmouth. He offers some reflections on the lectionary readings for the Sundays and Solemnities of June.
Correspondence
---
Books
   REVIEWED BY PETER EDWARDS
Britain's First Worker-Priests
John Mantle
SCM Press, £14.95
Tablet Bookshop
Price: £ Tel: 01420 592 974
   REVIEWED BY SIMON FRANCIS GAINE OP
Contemporary Catholic Theology: a reader
Michael A. Hayes and Liam Gearon
Gracewing, £20
Tablet Bookshop
Price: £ Tel: 01420 592 974
   REVIEWED BY ADRIAN HASTINGS
Lord Acton
Roland Hill
Yale University Press, £25
Tablet Bookshop
Price: £ Tel: 01420 592 974
---