CONTENTS
January 2002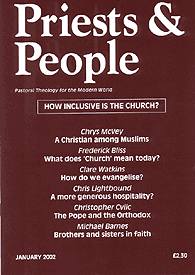 Click here to buy
this Issue
A limitless generosity?
In this issue you will read many interesting articles on actual religious topics. You can use this data to get inspired and research one of the topics separately, buy phd dissertation if you get confused at the stage of creating a paper, or want to read more about a certain issue.

How does your understanding of the Church's mission change when you have lived in a predominantly Muslim society? Chrys McVey, an American Dominican who has lived for many years in Pakistan and taught at the national seminary there, reflects on his understanding of the gospel, 'To live outside the camp is to be in a privileged position, to discover, with others, what God is really about, and what it means to be Church.'
What does 'Church mean today?
How did the church arrive at her present self-understanding? Frederick Bliss, a New Zealand Marist, who teaches at the Angelicum in Rome on ecumenism and the Church, traces three histories which can help us to place the last century's church teaching on ecumenism: 'It was a century that drew up an ecclesial agenda, which the twenty-first century has no option but to address.'
How do we evangelise?
Clare Watkins is Director of Studies at the Margaret Beaufort Institute of Theology, in Cambridge. Here she considers why Catholics are so reluctant to evangelise, and suggests that rediscovering a theology of grace could help them to overcome this reluctance.
A more generous hospitality?
One Bread One Body appeared in 1998. Here Mgr Christopher Lightbound, who is parish priest of St Mary of the Angels at Childer Thornton, South Wirral, and former Vicar General of the Diocese of Shrewsbury, suggests a more liberal interpretation of the general norms of the document, to be more welcoming to other Christians in intercommunion. 'Has the time not come, three years on, when our bishops might review the General Norms applying them with generous flexibility?'
The Pope and the Orthodox
Why has the Pope encountered such hostility from the Orthodox Christians on his travels? Christopher Cviic is a journalist who, for two decades, doubled up as East European and Religious Affairs correspondent for The Economist. Here he traces the history of such antagonism but asks: 'Could a miracle happen and this year's papal visits to the Orthodox take in Moscow and Misnk as well as Sofia?'
Brothers and sisters in faith
What is needed for interreligious dialogue in British society? Michael Barnes is a Jesuit who lives in Southhall and teaches theology ay Heythrop College. Here he insists that such dialogue should not be seen as just the interest of a few enthusiasts in a society which has privatised the notion of religion. 'Unless dialogue in all its forms is rooted in the life, prayer and worship of the local Christian community it is liable to become a fringe activity...'
Preaching and teaching the World
Adrian Gates, parish priest of Our Lady of Lourdes, Dogsthorpe, Peterborough, offers some reflections on the lectionary readings for the Sundays and feast days of February.
Pastoralia: Interchurch families
An international conference of interchurch families held in Edmonton, Canada, last summer appealed for a 'pastoral understanding' for such families that goes beyond 'pastoral care'. Inspired by the 'three phases of pastoral care' quoted in Priests and People, August-September 2001, Ruth Reardon, a president of the Association of Interchurch Families, applies them to the pastoral understanding of mixed marriages between baptised Christians.
Old Testament chronicle
Bernard Robinson, who until his recent retirement taught Scripture at Ushaw College, Durham, gives his reactions to another miscellany of recent books on the Old Testament.
Postscript: Money matters
---
Books
REVIEWED BY BERNARD ROBINSON
What Did the Biblical Writers Know and When Did They Know It? What archaeology can tell us about the reality of ancient Israel
William G. Dever
Grand Rapids and Cambridge: Eerdmans, 2001, £16.99
Tablet Bookshop
Price: £ Tel: 01420 592 974
REVIEWED BY BERNARD ROBINSON
Glimpses of a Strnage Land: studies in OLd Testament ethics
Cyril S. Rodd
T & T Clark, £29.95
Tablet Bookshop
Price: £ Tel: 01420 592 974
REVIEWED BY BERNARD ROBINSON
The Bible, Theology, and Faith: a study of Abrahm and Jesus
R.W.L. Moberly
Cambridge University Press, £14.99
Tablet Bookshop
Price: £ Tel: 01420 592 974
REVIEWED BY BERNARD ROBINSON
The Psalms: an introduction
James L. Crenshaw
Eerdmans, £9.99
Tablet Bookshop
Price: £ Tel: 01420 592 974
REVIEWED BY BERNARD ROBINSON
Psalms (Old Testament Readings)
Alistair G. Hunter
Routledge, £17.99
Tablet Bookshop
Price: £ Tel: 01420 592 974
REVIEWED BY BERNARD ROBINSON
Isaiah
B.S Childs
Westminster John Knox Press, £35
Tablet Bookshop
Price: £ Tel: 01420 592 974
---