CONTENTS
February 2002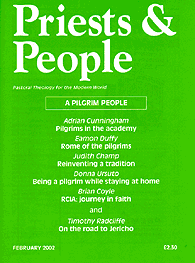 Click here to buy
this Issue
On the way
Pilgrims in the academy
A founding member of the department of religious studies at Lancaster University examines some of the key features of contemporary writing on modern Christian pilgrimage, and shows how, in the best examples, historians and anthropologists have attempted to find lines of approach that are both sympathetic and detached.
Cambridge University historian Eamon Duffy, by taking journeys on foot around the shrine churches of Rome, retraces the pilgrim routes trodden by Christians from the middle of the second century. He reflects on the changing attitude of the popes to their see and of Catholics to their popes, and concludes that 'Catholicism is about pilgrimage, not about power'.
Reinventing a tradition
Judith Champ, author of The English Pilgrimage to Rome (Gracewing) and lecturer in church history and pastoral theology at Oscott College, here gives an overview of the phenomenon of 'going on pilgrimage'.
Being a pilgrim while staying at home
Donna Orsuto lectures at the Institute of Spirituality, Gregorian University, and is the director of the Lay Centre and Vincent Pallotti Institute in Rome. Here she describes the mystical journey undertaken by St Ignatius of Loyola and shows how 'ordinary Christians' can be helped to adopt pilgrimage as a state of mind.
RCIA: journey in faith
How can the community of the faithful be an effective initiating community if it does not itself take seriously the 'journey in faith' of the People of GOd? So asks Brian Coyle, a priest of the Archdiocese of Southwark and Director of its Christian Education Centre, in South London. Here he explains how the RCIA, when used as intended, 'has the potential to be a powerful means of parish renewal'.
On the road to Jericho
The Good Samaritan was the subject of a talk given in Italy last June by Timothy Radcliffe, former Master General of the Dominican Order, to an audience of European politicians and lawyers. The Samaritan's journey was the occasion for an act which teaches us who our neighbours are today - a lesson no less shocking to us than to the story's first listeners.
PASTORALIA - Forming an Eco-Congregation
Eco-Congregation is a newly developed environment programme for churches. We interviewd the Project Co-ordinator, David Pickering, to find out more about the programme and how churches can get involved.
Preaching and teaching the world
For this month's lectionary readings we have two priests offering their reflections. Tony Philpot is Spiritual Director at the English College, Rome, and Peter Edwards (proof-reader for Priests and People) is assistant priest at St Philip Howard, Cherry Hinton, Cambridhe.
Postscript: Time Management
---
Books
   REVIEWED BY BRUCE HARBERT
The English Pilgrimage to Rome: a dwelling for the soul
Judith Champ
Leominster, £12.99
Tablet Bookshop
Price: £ Tel: 01420 592 974
   REVIEWED BY SIMON FRANCIS GAINE OP
Losing: the Sacred: ritual, modernity and liturgical reform
David Torevell
T&T Clark, £24.95
Tablet Bookshop
Price: £ Tel: 01420 592 974
   REVIEWED BY FRANCISCA RUMSEY
Colonies od Heaven: Celtic models for today's Church
Ian Bradley
Darton, Longman and Todd, £9.95
Tablet Bookshop
Price: £ Tel: 01420 592 974
---