CONTENTS
May 2002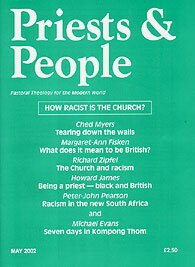 Click here to buy
this Issue
Restoring our true image
Tearing down the walls
Ched Myers is a theological educator who works with Bartimaeus Cooperative Ministries in Los Angeles and is the author of much-acclaimed commentary on St Mark's Gospel.* Here he exposes the structural racism eith which we all, to some extent, live.
Does cultural diversity enrich a nation or divide it? Margaret-Ann Fisken, the daughter of a diplomat, now works as a barrister in London. She draws on her own experience of life in both the USA and Britain to consider the implications of national identity on individuals and nations.
The Church and racism
Richard Zipfel, secretary to the Committee for Community Relations of the Bishops' Conference of England and Wales, reviews briefly how the Catholic community in these conutries has reflected the Church's teaching on race and responded to the changing nature of British society since the Race Relations Act was passed in 1976.
Being a priest – black and British
Howard James is the parish priest of Our Lady's Shrine, Willesden, north London. He tells how being a priest in Britain and the Archdiocese of Westminster has been a 'great joy' for him, but there are times when some people find his being black and a priest a difficult – or at least surprising – combination.
Racism in the new South Africa
While most of institutions in the new South Africa are committed to creating a 'rainbow nation', there are still inequalities between races. Peter-John Pearson, a priest of the Archdiocese of Cape Town, is the director of the Parliamentary Liaison Office in Cape Town for the Southern Africa Catholic Bishop's Conference. Here he describes the current situation in the country and the Church's role in helping to heal the racial rifts.
Seven days in Kompong Thom
Parish priest Micheal Evans trvelled from St Augustine's in Turnbridge Wells to its 'twin' parish of Kompong Thom in Cambodia, recording the remarkable resilience and faith of the people there who have suffered much, and observing that 'there is something of the Acts of the Apostles about the Catholic Church in Cambodia today'.
Preaching and teaching the World
Nicholas King, a Jesuit, teaches New Testament in the University of Oxford. Here he offers some reflections on te lectionary readings for the Sundays and solemnities in June.
From a layperson's perspective
PASTORALIA - Creative Dialogue
Frustrated at meetings where the arguments just seem to be going round and round? Discouraged by the stifling of potentially sound ideas? Adrian Smith, a member of the Missioraries of Africa Society and author of (among other titles) Dialogue: a tool for community building, suggests some ways to enable communication which can be growth-giving.


---
Books
   REVIEWED BY SEAN CONNOLLY
Travelling Light: your journey to wholeness
Daniel O'Leary
Th Columba Press, £10.99
Tablet Bookshop
Price: £ Tel: 01420 592 974
   REVIEWED BY SEAN CONNOLLY
Living Beyond Conformity: an experience of ministry and priesthood
Owen Hardwicke
The Columba Press, £11.99
Tablet Bookshop
Price: £ Tel: 01420 592 974
   REVIEWED BY JIM CHRISTIE SJ
'You aren't of the boys':authority in the Catholic priesthood
Noel Tims
Matthew James Publishing, £10.95
Tablet Bookshop
Price: £ Tel: 01420 592 974
   REVIEWED BY JOHN SULLIVAN
On Human Being
Olivier Clement
New City, £8.50
Tablet Bookshop
Price: £ Tel: 01420 592 974
   REVIEWED BY JOHN SULLIVAN
Jesus the Rebel: bearer of God's peace and justice
John Dear SJ
Sheed and Ward, £13.50
Tablet Bookshop
Price: £ Tel: 01420 592 974
   REVIEWED BY JOHN SULLIVAN
The Mystery of the Cross
Basil Hume OSB
Darton, Longman and Todd, £9.95
Tablet Bookshop
Price: £ Tel: 01420 592 974
---