CONTENTS
July 2002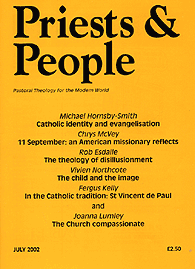 Click here to buy
this Issue
The privilege to serve
Catholic identity and evangelisation
How has Catholic identity changed in recent years? Micheal Hornsby-Smith, Emeritus Professor of Sociology at the University of Surrey, examines the changes but then ponits to the challenge of evangelising a society which has shifted from modernity to postmodernity. 'Only after listening can dialogue begin.'
11 Spetember: an American missionary reflects
Chrys McVey is an American Dominican who has spent forty years working in Pakistan. He was on home leave in the States when the events of 11 September happened. Here he gives the reflection of an 'outsider', but he insits 'we need to discover what the appropriate Christian response might be in a world that has changed simce 11 September'
The theology of disillusionment
Rob Esdaile, who is a priest of the Diocese of Arundel and Brighton and Roman Catholic chaplain to Sussex University, draws on some personal experiences to explain why he has discovered that disillusionment is not a bad thing but in fact 'an essential step on the path to salvation'.
Joanna Lumley is one of Britain's best-known and most popular actresses. What she is less well known for is her passion for a more compassionate treatment of animals, particularly farm animals. She sees this as an issue in which the Church could take a lead as we are 'still at the beginning of a long road'.
The child and the image
Do artistic images help or hinder in explaining Christianiy to children? Vivien Northcote, who is a deaconess in the Church of England and author of a book on using art in religious education, shows how images can cause confusion and urges instruction about the history of Christian images to be an essential part of the religious education curriculum.
In the Catholic tradition
Many parishes have St Vincent de Paul societies. Fergus Kelly, who is a member of the Congregation of Mission (Vincentians) and national spiritual director to the St Vincent de Paul Society, describes the life of the great saint who inspired the charitable work the society does. Vincent was a diocesan priest in seventeenth-century France who 'heard the cry of the poor for food – food for the body and food for the soul'.
Preaching and teaching the Word
Canon Peter Turbitt is the parish priest of St John Vinney, Wantage, in the Portsmouth Diocese. Here he offers some reflections on the lectionary readings for the Sundays and Solemnities of August.
PASTORALIA – Preparing couples for marriage
How can couples be prepared for the commitment of marriage today? Marriage Care holds some of the answers, as Ann Knowles Foster explains. Ann is Area Manager with Marriage Care in the North West and responsible for Marriage Support, which includes marriage preparation work. She is a former editor of The Universe and recently moved with her family to live in the Leeds Diocese.


---
Books
   REVIEWED BY DOROTHEA SWEENEY SND
A Painful Process
ed. by Andrew Bebb and Anna Roper
Matthew James Publishing, £7.99
Tablet Bookshop
Price: £ Tel: 01420 592 974
   REVIEWED BY PETER EDWARDS
The Lectionary Commentary; theological exegesis for Sunday's texts/ Vol 1: The First Readings/ Vol2. The Second Readings/ Vol. 3 The Gospels
ed. by Roger Van Harn, Richard Burridge and Colin Gunton
Continuum, £35/ 35/ 40
Tablet Bookshop
Price: £ Tel: 01420 592 974
   REVIEWED BY TERENCE CROTTY OP
Dive Deeper: the human poetry of faith
Michael Paul Gallagher
Darton, Longman and Todd, £8.95
Tablet Bookshop
Price: £ Tel: 01420 592 974
---