CONTENTS
October 2003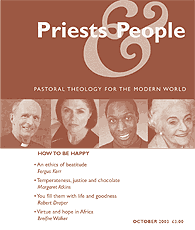 Click here to buy
this Issue
Life in abundance
An ethics of beatitude
Fergus Kerr, the well-known theologian whose latest book After Aquinas (Blackwell) appeared last year, shows here how the moral theology of Thomas Aquinas centres 'on beatitude, understood as eschatological participation in the divine life, attainable only in union with Christ' .
Being reasonable, for goodness' sake
How do the 'virtues' of St Thomas Aquinas help us in making moral decisions? Vivian Boland, Senior Lecturer in Theology at St Mary's College, Twickenham, suggests the focus of the virtues is on the quality of the person who acts, what 'one might aspire to be and has the potential to be', rather than on the act itself.
Can a case be made for exercising the apparently boring and private virtue of temperateness? Margaret Atkins, Senior Lecturer in Theology at Trinity and All Saints University College, Leeds, uses the consumption of chocolate to show how we can all aspire to this not-at-all boring and not-private virtue – and even increase the enjoyment of our chocolate-eating
You fill them with life and goodness
What makes a parish 'flourish'? Robert Draper, Vicar General of the Plymouth Diocese and parish priest of St Augustine's, St Austell, Cornwall, describes from experience how the parish 'can become a place where fear is cast out because the gospel of freedom and truth is proclaimed and lived, by women and men struggling to be happy'.
Virtue and hope in Africa
The 'new evangelisation' requires a 'transforming encounter with the living person of Christ'. How does the ethics of virtue and happiness enable this encounter to come about? Since 1990, Breifne Walker has taught moral theology in the International Seminary of the Holy Ghost Congregation in Enugu, Nigeria. Here he explains how the ethics of virtue in the African context has much to teach us all.
Preaching and teaching the Word
Kevin O'Connell is a priest of Northampton Diocese and offers some reflections on the lectionary readings for the Sundays in November
Sabbatical or burn-out?
One of the values of the Sabbath is to teach the need for rest. Gerard Hanlon, a priest of the Diocese of Leeds who has been working in Peru for nearly forty years, describes the experience of a sabbatical he recently enjoyed in the United States and recommends them for all clergy to avoid staleness and burn-out.
Pastoralia
How can British children directly help those children who live in less affluent countries? One way is by supporting Mission Together, the Church's official overseas charity for children. Here Irene Donnelly explains the work and origins of the charity which puts children first, as donors and recipients.
Postscript: Something to rejoice in
---
Books
   REVIEWED BY VIVIAN BOLAND OP
Misguided Morality: Catholic moral teaching in the contemporary Church
Michael M. Winter
Ashgate Publishing, £15.99
Tablet Bookshop
Price: £ Tel: 01420 592 974
   REVIEWED BY DEBORAH M. JONES
Dominion: the power of man, the suffering of animals, and the call to mercy
Matthew Scully
St Martin's Press, £19.99
Tablet Bookshop
Price: £ Tel: 01420 592 974
   REVIEWED BY ALLEN MORRIS
Liturgy in a Postmodern World
edited by Keith Pecklers
Continuum, £14.99
Tablet Bookshop
Price: £ Tel: 01420 592 974
---