CONTENTS
January 2004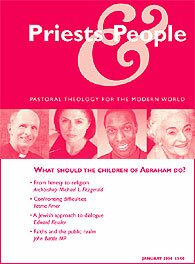 Click here to buy
this Issue
Loving the stranger
How has the Catholic Church's attitude to Islam changed recently? Archbishop Michael Fitzgerald, who is President of the Pontifical Council for Inter-religious Dialogue, traces these changes and then places the teaching of Vatican II on this subject within a larger theological context. This teaching 'remains not only a constant point of reference but also a source of inspiration which has not yet exhausted all its potentialities'.
Confronting difficulties
Fatma Amer is the Head of Education and Interfaith Relations at the London Central Mosque Trust and the Islamic Cultural Centre and lectures at the Markfield Institute of HE. Here she discusses some of the difficulties in attitudes to Islam which she encounters with Christian and Jewish audiences. The need for good dialogue is essential for it is the 'basic ingredient for everlasting good relationships'.
A Jewish approach to dialogue
Overcoming prejudices which are built into the collective unconscious of a people is one of the challenges of inter-faith dialogue today. Edward Kessler is Director of the Centre for Jewish-Christian Relations in Cambridge and Bye-Fellow of St Edmund's College. Here he shows how dialogue can begin to heal the antagonisms as we move from 'disdain to recognition when we see the Other as a creature of God'.
Faiths and the public realm
Two years ago John Battle, who is MP for Leeds West, was asked by the Prime Minister to see how faith communities could be a source for the solutions to some of the challenges which this society faces. 'There is a real challenge to government to open up and cooordinate but there is also a challenge to faith communities.'
Inter-religious diocese and parish
How can dioceses and parishes be active in the inter-faith work? David Jackson, who is Inter-religious Co-ordinator for the Diocese of Leeds, traces the history of this work and offers many practical suggestions. He believes that the unity for which Christ prayed is, at its deepest, 'the unity of working alongside others for the salvation of our fellow human beings'.
A Catholic theology of religious pluralism
In this review article John D'Arcy May, who is former Director of the Irish School of Ecumenics, Trinity College, Dublin, and now Associate Professor of Interfaith Dialogue there, discusses the recent work of Jacques Dupuis SJ (right).
Preaching and teaching the Word
Paul Simmons is a recently ordained priest on the staff of the Cathedral of Our Lady and St Peter, Shrewsbury. Here he offers some reflections on the lectionary readings for the Sundays and holy days of February.
New Testament chronicle
Henry Wansbrough is Master of St Benet's Hall, Oxford, and a member of the Pontifical Biblical Commission. In this annual overview of books on the New Testament, he makes a selection among the many recently published.
Postscript: Witnessing to marriage
---
Books
Jesus Remembered
James D.G. Dunn
Grand Rapids, £13.99
Tablet Bookshop
Price: £ Tel: 01420 592 974
Messianism among Jews and Christians, biblical and historical studies
William Horbury
T&T Clark, £50
Tablet Bookshop
Price: £ Tel: 01420 592 974
The Gospel of Matthew
Rudolf Schnackenburg
Eerdmans, £17.99
Tablet Bookshop
Price: £ Tel: 01420 592 974
The Gospel of Mark
R.T. France
Paternoster Press, £39.99
Tablet Bookshop
Price: £ Tel: 01420 592 974
The Gospel of Mark: a commentary
Francis J. Moloney. Peabody
Hendrickson, £19.99
Tablet Bookshop
Price: £ Tel: 01420 592 974
On Paul, essays on his life, work and influence in the early Church
C.K. Barrett
T&T Clark, £25
Tablet Bookshop
Price: £ Tel: 01420 592 974
---