CONTENTS
June 2004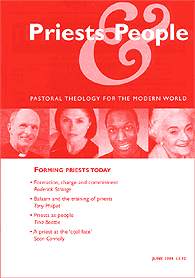 Click here to buy
this Issue
Training for a happy life
Formation, change and commitment
'Relentless, despised, misunderstood' – those words describe the ministry of Jesus of Nazareth. Roderick Strange is Rector of the Beda College, Rome, and author of The Risk of Discipleship (see review on page 249). Here he describes the challenges which a man being formed for the priesthood today must face if he is to follow Jesus.
Balaam and the training of priests
Tony Philpot, spiritual director at the English College, Rome, makes a wish-list of the qualities needed for the priest of today – with the help of the 'far-seeing' Balaam.
Priests as people
Tina Beattie was asked for her opinion on the qualities she would like to see in a priest – especially if a son of hers were to receive and answer a clerical vocation. Dr Beattie lectures in Christian Studies and runs an MA in Religion and Human Rights at the University of Surrey Roehampton.
A young priest reflects on his formation having faced the reality of taking over his first parish. Sean Connolly, of Wymondham in Norfolk, sees the future challenge for the Church in reforming and recapturing the true essence of priestly minstry among our people.
Ongoing formation
How is today's priest to survive under increasing pressures? Paul Townsend, parish priest of St Francis de Sales, Newbury, and Episcopal Vicar for Clergy Formation for the Diocese of Portsmouth, outlines a practical programme for ongoing care and formation.
Report of a Church in crisis
Michael Phelan comments on two recent reports on the worst crisis in the history of the Catholic Church in the United States, provoked by the sexual abuse of minors by Catholic priests and deacons.
The Prayer of the Church for lay people
The Prayer of the Church is not reserved for clergy and religious; it is the prayer of the whole Church and, as such, it also belongs to the laity. Sr Pauline Clarke, a Liturgy Adviser in the Westminster Diocese and a member of the Diocesan Liturgy Commission, here explains how people who are unfamiliar with the 'Office' can make a start at including it in their prayer-life.
Preaching and teaching the Word
Vicky Cosstick, Learning and Staff Development Manager for Cafod, offers some reflections on the lectionary readings for the Sundays of July.
Postscript: The signs we give
---
Books
REVIEWED BY CRISPIAN HOLLIS
At the Heart of the World
Cardinal Cormac Murphy-O'Connor
Darton, Longman & Todd, £8.95
Tablet Bookshop
Price: £ Tel: 01420 592 974
REVIEWED BY CRISPIAN HOLLIS
The Risk of Discipleship
Roderick Strange
Darton, Longman & Todd, £10.95
Tablet Bookshop
Price: £ Tel: 01420 592 974
REVIEWED BY ANTONIA LACEY
Healing Priesthood: women's voices worldwide
edited by Angela Perkins and Verena Wright
Darton, Longman & Todd, £9.95
Tablet Bookshop
Price: £ Tel: 01420 592 974
REVIEWED BY OWEN HARDWICKE
Adventures in Orthodoxy: the marvels of the Christian creed and the audacity of belief
Dwight Longenecker
Leominster: Gracewing, £9.99
Tablet Bookshop
Price: £ Tel: 01420 592 974
---