December 2001
St Thérèse of Lisieux and the Holy Child
Ruth Burrows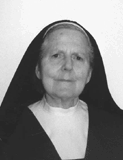 Why did St Thérèse have such a devotion to the Child Jesus? Ruth Burrows (Sr Rachel of the Quidenham Carmel), author of many books on prayer, shows how it could reveal a divine truth: 'the inexpressible nature of God's tender, compassionate love for us, which will stop at nothing but which will pour out its all to us and for us'.
Were it not for Jesus, the Mystery in which we are inescapably enfolded would remain for us an impenetrable darkness and our hearts an endless yearning. As it is, in him we see that the Mystery is absolute love, totally unconditional — how important that word and how difficult for us to realise — and that this love, unconditional though it is and something that will never be withdrawn, calls for an appropriate response. Jesus knew, as no other ever could, the immensity of love for humankind issuing from the God whom he called Father. His whole life and surrender in death was his passionate 'yes' to this love — a love too great even for his human heart to hold without breaking.
Thérèse of Lisieux entered deeply into the mystery of Jesus, and lived out her short life surrendered to him and was forever pondering on his words and deeds. However, there were two 'moments' of Jesus' life that unveiled to her the inmost nature of love and that inspired and shaped her response: his infancy and passion. In both the Son of God is defenceless, vulnerable, 'delivered up' to human hands. Here was something that caught at her heart and on which she dwelt incessantly. Love can only be love and nothing else. It must offer itself nakedly and be received in its nakedness. Thérèse understood that the divine omnipotence is the omnipotence of love and only that. To be true to itself it must come to us with no false trappings of power but as what it is, pure self-gift that humbles itself, divests itself of 'god-ness' (that is, of all the qualities we attach to divinity), and 'stoops to nothingness to transform that nothingness into love'.
It seems that for little Thérèse — as such she always saw herself — in her little ordinary life, it was more appropriate to relate to Omnipotent Love in the little Jesus. The divine Infant was as dependent for his life on the loving protection and care of Mary and Joseph as is any human child on its parents. What did this not say of the immensity and tenderness of divine Love? We find Thérèse over and over again expressing the quality of tenderness. God's heart is more tender than that of the tenderest of mothers.
Response of tenderness
She herself had experienced from her family an unfailing tenderness that nurtured, guided, protected and upheld her. How could such a tenderness not abound in and flow from God's own heart? She recognised that tenderness stoops to frailty even to experiencing it with us; and would have us purge our hearts of any notion of a distant, aloof, severe deity, an idol which can lie (in both meanings of the word) within the human psyche no matter how well informed the mind. Tenderness is a reverent, almost worshipful response to what is weak, small, vulnerable and dependent. It longs to cherish and protect the fragile preciousness and beauty of being. What human person is not flawed and fragile? True love discerns this and responds with tenderness. Such is God's love for each one of us. He is 'wrapped up' in each, intent on each and filled with reverent tenderness.
Divine love approaches us where we are and as we are, like to us in all things save sin. Christians of the first era would hymn the self-emptying of Jesus in his solidarity with us and his obedience unto death: Thérèse saw and hymned it in the Child. We see her portrayed holding a double picture; on one side that of Veronica's veil with its imprint of Jesus' bruised, bleeding face, and on the other a rather magisterial-looking boy. This image of the divine Child is not what Thérèse had in mind. She is thinking of an infant, a toddler, one who needs looking after, who needs toys to play with (she offers herself as a toy for his delight), who, being irrational, is capricious; plays with a toy, sticks pins in his ball, tires of it, throws it aside, forgetting all about it. It sounds childish if not ridiculous. Which of us would find devotion in thinking of our relationship to God like that?
Yet behind these childish images lies the reality of an incomparably selfless love. There was nothing childish in the wise young adult Carmelite, wholly detached from herself, devoted entirely to God and to others. Thérèse never lived as an adult in the outside world and Carmel did not offer a wide range of reading which would have expanded her imagination and emotions, and inevitably her images tend to be drawn from childhood, and an exceedingly sheltered childhood. For all her profusive use of petit / petite there was no trace of pettiness in this splendid girl.
The Holy Face
At her clothing (the ceremony of taking the habit), Thérèse extended her name. She became Sr Thérèse of the Infant Jesus and of the Holy Face, that is, of the suffering, humiliated face of Jesus, devoid of human beauty, despised and shunned as lepers were despised and shunned. Here was God, infinite Beauty, Goodness and Love, hidden, unrecognised; despised! It is impossible to understand fully Thérèse's devotion to Jesus' infancy without the backdrop of her contemplation of the Holy Face, and therefore something must be said of it. There is no doubt that her adored father's humiliating mental derangement, which began shortly after her entrance into Carmel, gave poignant significance to what was already a devotion in the community. Seemingly aware at times of his condition, Monsieur Martin would throw a veil over his face as if to hide his shame. The mystery of this despised divine Face took more and more hold of Thérèse as she experienced life in the monastery, grew in self-knowledge and suffered. Jesus' passion dominates the letters she wrote to support her sister Céline, nursing the invalid. In caressing his stricken face and wiping his tears Céline is tenderly succouring the face of Jesus. A stigma attached to mental illness and the daughters were aware of the mutterings of 'religious mania' and the hurtful insinuation that it was the loss of his youngest daughter that tipped the aged father into madness. The young Carmelite saw the once distinguished face of her 'King' now 'hidden' and 'despised', as an ikon of Jesus.
For Thérèse, the mystery of the infancy and that of the man of sorrows expressed the same divine truth: the inexpressible nature of God's tender, compassionate love for us, which will stop at nothing but which will pour out its all to us and for us; and, at the same time, love's humble longing for a return of love. God chooses to be needy and what more needy than a child; this he became. She learned more and more that our response is necessary if this need of divine love is to be satisfied. We, and we alone, can free the immensity of divine love to do its will, to do justice to itself, to take hold of our littleness and bring each one of us to a blissful fulfilment in his love. This alone can satisfy his heart — and ours.
God thirsts for our love
Divine love has made itself powerless as it crosses the frontier 'in human form', leaving 'divinity'on the other side and with it all that that might mean of power and self-protection. From now on divine love in person is in our hands to do as we please with it. Yes, in a real sense God is powerless in the world. He saves only through 'man', through Jesus, and the risen Jesus continues his saving mission through the Church, that is, through the faith and love of believers — ourselves. God positively needs us, is powerless without us. It is not our works of themselves that he needs, but our love and for this he thirsts. Thérèse will say that we who know and love him must forget ourselves and devote our entire lives to satisfying this divine thirst, we must bring him 'souls'.
Thérèse greeted the divine helplessness and longing with passionate tenderness; she embraced this 'little one', her God in utter abasement, and enfolded him in protective love. One finds in her an awe-inspiring selflessness of love. It is Jesus alone who matters, never Thérèse!
It began at what she called her 'conversion' which, significantly, took place on Christmas night in her fifteenth year. It was the new-born Lord, become little and weak for her, who lifted her out of her neurotic self-occupation and gave her strength. Vainly she had tried to overcome her weakness, then suddenly, on this blessed night, it happened. She found herself seemingly miraculously changed. Though rich, he became poor so that we might become rich, and weak, to clothe us with his strength. Thérèse experienced this truth and it influenced her for the rest of her life: her human 'can't' was transformed by Jesus into a 'can'. What is impossible to human beings is possible to God.
From that moment her real spiritual life began. She was given light to understand and feel to her depths how little Jesus was known and loved, and she resolved to spend her life catching his precious, redeeming blood and applying it to 'souls'. She herself began to thirst. No longer was Thérèse interested in her own spiritual life — that she could safely leave to God — her whole intent was to love Jesus. She realised that it is the love of his lovers that in a mysterious, hidden way 'brings him souls'.
Struggling with God
When we reflect earnestly, is it not true that, to a large extent, we implicitly assume that it is for God to wipe our tears, to put things right for us, to console us? Behind this, is there not an image of 'Almighty God', who, if he really wanted to, could make things a lot easier? Why doesn't he if he is love? We get petulant and, secretly at least, feel let down, badly treated. All the giving is on our side! Why does he leave us with our suffering, our burdens? Why does he not change our inner state, give us consolation and show us that he loves us? Thérèse completely reversed this all too human selfishness, and what she did we can do.
Our faith sings joyously at Christmas, 'Oh come ye to Bethlehem', and seeing in a new-born babe, 'God from God, Light from Light', we adore him. Faith and faith alone reveals, shows us God in what seems not God. In Jesus we have the full, definitive revelation of the divine splendour in profound hiddenness. Mysteriously, where it seems most hidden, there is it the more truly manifest. This revelation continues. God comes to us in the human, in our own humanity, in the ordinariness of our everyday lives. This is where he is for us and nowhere else. There is no 'mystical' realm into which, if we try hard enough, we have a right to be transported and where we shall feel wonderful and no longer the rather drab little people we are.
Thérèse saw what we miss — maybe we choose not to see it — the preciousness of ordinariness. Far from wanting something more 'divine', she positively loves the ordinary; a sanctity, hidden from itself, the sanctity of little ones. This she says, 'is the 'truest and the most holy, and it is the type I desire'. She contemplated Jesus' hidden life at Nazareth, and the holiness of his mother, simple, hidden, unselfconscious. We can be praying to a God that does not exist, 'out there', detached, who can look after us, protect us, shower us with blessings of a kind we understand. The only God is the God of Jesus who gives nothing less than God's own Self, and who alone can fully satisfy the human heart. Here lies the reason for God's hiddenness, the darkness and aridity that we find so baffling and disquieting. The true God can reveal his true self only in the human and this means in the very warp and woof of our unique humanness and day-to-day lives. The treasure of divine love is all around us here and now, whoever, wherever we are. Everything is an opportunity for receiving and responding to God's love.
Vulnerable love
Thérèse saw this naked, unadorned, vulnerable love entrusting itself to us and yet meeting with lack of comprehension if not contempt. Where we cry: 'This can't be God!' because we don't want God to be like that, she holds out the arms of her love to what her faith reveals as the very excess and folly of divine love. This is the meaning of her devotion to Jesus' childhood … the mystery of his chosen neediness. Never must she 'hurt' him by lack of understanding, by making a fuss of aridity, of life's little difficulties. The Infant needs his sleep, don't be selfish and try to wake him up to smile at you! It is for you to caress him and dry his tears, not for you to make demands on him with your frettings, your anxieties about yourself!
Thérèse completely reversed the natural human attitude. She encourages her sisters who seek her advice, to caress the divine Infant, bring him gifts of flowers, smile upon him and and sing. These are her images for a practical living out of love, doing everything for love and not for self, forgetting oneself in order to make others happy, denying self-will, bearing patiently with sufferings of mind and body. It is this selfless love that mysteriously enables God's love to effect an entrance into hearts that are closed. 'The Almighty has given (us) as fulcrum: Himself alone; as lever: prayer, which burns with a fire of love.' This is the omnipotent force that 'lifts the world'. Recollection of the awesome mystery of Jesus' passion does not dominate Thérèse's daily life, rather she keeps a light, childlike, gracious tone, playful and witty. Thérèse never dramatised her difficulties — they were pinpricks and only that — the Child playing with his toy!
Thérèse saw the preciousness of ordinariness and this insight was given to her for our sakes. She lived ordinariness to the full. We must take very seriously what she tells us of her own weakness, littleness and imperfections. She really is one of us, having to bear the burden of her own unique humanness. Her God's unutterable tenderness in choosing to become a human being, experiencing for himself 'how frail you have made the children of men!', enabled her confidently to acknowledge and live in the truth of her being not-God, unspiritual, of the earth earthy, quite incapable in herself of reaching God.
This is our truth too, reluctant as our pride is to accept it. In what is our natural habitat we may be self-assured and capable, but once we seriously desire to give God first place in our lives, we begin to experience ourselves differently. We are not competent at all. We feel ourselves inadequate. The whole revelation of God in Jesus gives us the absolute certainty that God has come down to us to lift us up, to do for us what we cannot do for ourselves. Of course, what we can do we must do. Thérèse took this for granted and her generosity knew no bounds. We must look for God's will at evey hour and surrender to it whatever the cost, but try as we may, we shall fall short. Thérèse begs us to understand that all God really wants is our blind trust that he will do everything for us. Like a toddler all we can do, spiritually speaking, is lift our little foot to the first step of the stairs and go on trying. Jesus, like a mother, will come down and carry us up in his arms.
Ah Jesus! why can't I tell all little souls how unspeakable is your condescension? I feel that if you found a soul weaker and littler than mine, which is impossible, you would be pleased to grant it still greater favours, provided it abandoned itself with total confidence to your Infinite Mercy.
Suffering towards the end
Thérèse lived her truth to the end. Eighteen months before her death from tuberculosis, suddenly there fell upon her a hitherto unimaginable suffering: the complete obscuration of her faith. For the first time she confronted in herself the possibility of stark unbelief, the reality of atheism: no heaven, no God — nothing; everything that gave meaning and joy to her life, gone. Unless upheld by him on whom she had always relied to transform her human 'can't' into a 'can', she would despair, she would sin. Affirming her belief in his reality she maintained a steadfast peace and abandonment in the horrible darkness that echoed with mocking, blasphemous voices. The orientation of her whole being was focused on Jesus and away from herself. Jesus matters, not Thérèse. Suffering within and without to an unbearable degree, experiencing a despoliation that seemed not only physical but spiritual too, Thérèse's childlike, charming 'lightness' disguised the full extent of her anguish.
Knowing her Beloved grieved over her sufferings she would have liked to have concealed them even from him! Shortly before her death she composed a song, Une Rose efeuillée. Its typically gracious imagery cannot conceal the passion of her self-squandering love as she confronts her dissolution. A rose that has just reached its perfection, she deliberately, lovingly, tenderly sheds her petals under the feet of the divine Child, her 'Treasure, Beauty Supreme', as he takes his first steps on 'our sad earth', and as he treads his last to Calvary. That is the meaning of her life — to be all for Jesus, for his easing, for his joy. This is not merely Thérèse loving. Thérèse is possessed by Love and has herself become love.


---