April 2003
Prayer in an Easter community
Ruth Burrows O Carm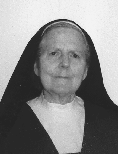 We may think that the real Easter experience of prayer is that of the resurrection. Ruth Burrows (Sr Rachel of the Quidenham Carmel), author of many books on prayer, shows how the dying part is equally important: 'The dying and the rising are simultaneous in this life.'
Easter experience in prayer is not just an uplifting, ecstatic moment of delight in God, a conscious awareness of the divine presence or an infusion of dazzling insight. Quite properly we understand such joy and, indeed, all the joy and happiness that enrich our lives, as intimations of resurrection. They seem to indicate a deep, perhaps only implicit awareness that the ultimate is joy. Pain, affliction of whatever kind, these pass away, but joy is eternal. Even now, our sad, suffering, seemingly lost world is enfolded, upheld, penetrated by absolute joy; behind its tears gleams the serene smile Dante perceived, and this joy, even now, is our inheritance and our real home.
Likewise, 'experience', as used in this essay, is not merely the pressing upon us of a succession of events, but the effect of our response to these, that is the person we actually are. We become who we are through experiencing. Thus 'Easter experience' will be our life, lived no longer for ourselves, but for him who died and rose again for us. It will mean being wrenched from our innate self-orientation, dispossessed of our self, so that the risen Jesus may live in us. Easter experience is sharing the death of Jesus in order to share his life. This transformation, surpassing all we could possibly imagine, is the work of the Holy Spirit, who is the Gift of gifts, the fruit of Jesus' triumph. Prayer in its essence is nothing other than surrender to this purifying and transforming work of the Holy Spirit in the raw reality of human life. We are an Easter community, brought to birth at Easter and inescapably bonded together, continually affected by and affecting others. The Father's will, his great design 'before the foundation of the world', is that the human family and the whole creation should be transformed into the 'kingdom of his beloved Son'. Jesus died to make this possible; the Father raised him from death to glory, to be the source, the king of the new creation that is coming into being through the Holy Spirit. The Spirit is the living love exchange between Father and Son, the personalisation of all that they are to one another, and this inconceivable intimacy is offered to us.
We accept in faith what is beyond all imagining and make its realisation the mainspring of our life. We are caught up in that divine outpouring, receiving and returning of love. It is the Holy Spirit who welds us into this union and the whole creation, destined to be infused with the holy life radiating from us. This is the 'fullness of salvation'.
Holiness: not a private possession
Recreation can never come about as a mass production but depends on the recreation of individual men and women. Holiness is not a private possession. A person possessed by the Spirit is the living presence of Jesus in the world. Such a one, so to speak, gives the Spirit scope, or, to change the metaphor, becomes like Mary, the Spirit's entry into creation. Where Jesus is, there is the kingdom, and thus it grows. Whatever our 'external' vocation – to apostolic labour, social work, marriage and family, politics – no matter how we spend ourselves 'doing good', ultimately, what will count, what will transform creation and satisfy its innate longing, is for each one of us to realise his or her divine adoption. The willed surrender to the divine work, the aligning ourselves with the holy will of the Father, is prayer. Prayer is not first and foremost our doing, but is a response to God's desire for us.
The paradigm of true prayer
Mary's fiat, 'let it be done to me', is the paradigm of all true prayer. Her fiat gave God a welcome to creation, a 'yes' that was essential, for Love never elbows its way in. God's design for each and all is beyond human conception; what it will mean of blessedness as yet we cannot imagine. 'Thy kingdom come, thy will be done' – no higher goal can be thought of, no prayer be purer. The transformation of creation into the kingdom of Jesus is a divine work in the absolute sense but our longing for it, expressing itself in act, our clearing away of whatever obstacles we can, and surrender to the Spirit's action, hasten its coming. The piece of creation for which we are wholly responsible is ourselves. Our desire must be to expose ourselves to the Holy Spirit's purifying and transforming action. The pressure of divine love upon us is incessant and our 'yes', 'be it done to me', must be incessant. We must become prayer, total response. It is impossible for this to be so unless we give time to reflection and prayer.
The New Testament rings with joy in the certainty of God's loving, welcoming nearness, in the certain hope of a glorious destiny; knowing we are brothers and sisters, co-heirs with Jesus, caught up in the love with which the Father loves Jesus. It is inconceivable that we should receive this revelation and not be moved to commune person to Person with the Father and Jesus.
A period of 'pure' prayer has a unique place in our Christian life. It is, in itself, a profound act of faith in the reality and love of God who, here at this moment, offers all God has and is to me. Maybe there is no greater expression of faith than sustained fidelity to a period of exposure to divine love, often unfelt. We are thereby affirming that our identity is to be from God and for God – this is adoration, this is thanksgiving. How we see and experience ourselves is unimportant. We are known and absolutely affirmed by God. Easter faith enables us confidently to offer ourselves in our ignorance, poverty and sinfulness, to divine Love, inviting Love's purifying and transforming action. Such prayer is Easter experience and is the gift of the Father 'who, by his power at work in us is able to do far more abundantly than all we ask or think' (Eph 3:20).
There is only one obstacle to divine love and that is our tenacious selfishness, nothing else; not our frailties, our weaknesses, not our situation and circumstances, not our difficult temperament or emotional wounds, not what we think are handicaps, but only our self-sufficient, self-clutching, self-serving self. This is sin, the dead opposite of faith, which leaps out of self, to cast its whole weight onto God revealed in Jesus; the dead opposite of love which soars out of self in gift to another. Through his death and resurrection Jesus has broken the shackles of this sin. He is able to triumph within us, snatching us from the power of darkness and transporting us into the kingdom of love. We must co-operate.
Learning to love
Our co-operation will mean learning to love, disregarding our selfish concerns and devoting ourselves to our neighbours' good. It will involve the specifically Christian virtues of humility and meekness, the relinquishing of all power and claims to 'rights' save that of servanthood. Through Jesus' victory we are empowered even to lay down our lives for one another, not necessarily in the literal sense but in daily selfless service, 'so death is at work in us and life in you' (2 Cor 4:12). Learning to love selflessly is the most effective way of 'dying' with Jesus. The accent is not on suffering as such but on selfless love, and this means a life of obedience to God's will that we become fully human.
All good people and especially Christians know that they must overcome their selfishness, but few of us perceive just how tenaciously it pervades our whole being, vitiating even our most altruistic actions. The fact is that of ourselves we cannot get rid of it. It calls for the direct action of the Holy Spirit. This action can take the form of enlightenment and thereby of a sickening sense of self and awareness of our powerlessness to uproot it. Solitary prayer inevitably destroys illusions, revealing our sin and poverty, and that is why it is so often neglected. The only answer is a trustful surrender to divine Love, a consenting to be thus plunged into Jesus' death.
The love that operates with special intensity in personal prayer comes to us incessantly through everything that happens, everything without exception: other persons, events great and small, be they pleasurable or painful. Each moment, almost, calls for a choice for 'me' or for love. To emphasise again, never could we acquire the habit of watchfulness for God's will and the insight to recognise it in the humdrum of life, nor have the readiness to embrace it, without devoting time to reflection and prayer. Our generous efforts, even though ineffective of themselves, make it possible for God to work in us.
Dying and rising together
It is not a case of getting the dying part over and done with and then legitimately expecting 'resurrection', real Easter experience! No, the dying and rising are simultaneous in this life. Every dying to self means an increase of Jesus' life in us. 'While we live we are always being given up to death for Jesus' sake, so that the life of Jesus may be manifested in our mortal flesh' (2 Cor 4:11). It rests entirely with God, when the time is ripe, to wrench us completely from self's stranglehold so that in very truth 'it is no longer I who live but Christ who lives in me'. Even then, we shall still go on dying with him, sharing his suffering in one way or another 'for his body the Church'.
Purification must continue in order to increase our capacity for love. True prayer will never allow us to be complacent but will shatter the illusion that perseverance and fidelity will bring us sooner or later to a holiness that we can perceive and savour. 'You alone are the holy One.' Jesus' holiness is there for us to claim but this we can do only by consenting to abandon all claims to a holiness of our own. We cannot have our own life, even purified and beautiful with the reflected beauty of Jesus. No, Jesus cannot live his life on top of our own or beside our own. Only God can effect in us such a self-dispossession, and this will indeed be Jesus' Easter triumph and his joy and ours.
We long to see and feel Jesus' risen life within us. We cannot, any more than we can perceive the risen Lord himself. The risen Jesus does not allow Mary Magdalene to cling to his sensible form; the disciples perceive him being taken from human sight and touch. Mary Magdalene, the disciples and all those to follow, must do without the visible and tangible. Rather, forgetful of themselves, they must go out to others witnessing to the glorious news. The 'seeing' now is by faith alone and a life of selfless love is the witness to the life of Jesus in us, his triumph and the Father's joy and glory.
Sharing the passion of Jesus
Today, we Christians are offered a particularly stark sharing in the passion and death of Jesus, one such as earlier generations did not know, at least to the same extent: the 'absence', the absolute silence of God, the God who never intervenes to manipulate people and events in order to protect his own, who allows the most terrible things to happen; a seemingly powerless God, a God that is no God. We live in a society that is not merely atheistic – the question of God isn't serious enough to confront – but totally uninterested, seemingly oblivious of need.
Fearful though this is, it offers the possibility of a very pure faith, a very pure trust and love. There are none of the supports of faith enjoyed by earlier generations, but this is an austere blessing. All too easily, supports for faith become substitutes. Faith is surrender; staking our lives on the Father whom Jesus guarantees to be our Father too and in whom, as cherished children, we have absolute security. We must be ready to let go our notions of God and ourselves and of what we think essential to human fulfilment, in order to embrace, with Jesus, the Father's incomprehensible will, in the certainty that, no matter how bitter the chalice, it is offered by Love and holds Love within it. Even as Jesus 'emptied himself' so does the Father, choosing to be powerless in this world. He will not rob his creatures of the rights and freedom he has given them, not even to save his own Son. His mighty power, his love triumph through Jesus' faith, trust and love and that of his 'chosen': here is 'the immeasurable greatness of his power in us who believe, according to the working of his great might which he accomplished in Christ when he raised him from the dead and made him sit at his right hand in the heavenly places…' (Eph 1:19, 20).
A novel's expression
A moving expression of such an Easter triumph occurs in Hilda Prescott's novel, The Man on a Donkey.1 The context is the Great Northern Rising following on the dissolution of the monasteries in the reign of Henry VIII. Robert Aske is both the inspiration and brain behind the rising, and the rebels' peace-loving negotiator with the king's representative. Aske is sincerely devout but his understanding of God is naïve. His God will intervene and prevent the evils perpetrated against the Church and innocent northerners. Deriving from his view of God, the king too, God's anointed, can be trusted to stand by the right and his pledged word. One by one Aske's deepest loyalties are cruelly betrayed; the whole enterprise is defeated, largely through his trust in the king's promise that, provided the rebels disarm, their complaints and requests will be attended to and a total amnesty given. A mockery. Savage reprisals are meted out to the men who had trusted Aske with their interests and he himself is hung in chains from York Keep, condemned to a long-drawn-out agony.
On the fifth day of torment, rain beating on his head and neck brought Aske back for a while out of the nightmare into conscious horror. He saw in the scribble of lightning which split the black night the sheer drop of the wall beside him; the green far away below.
And as his eye told him of the sickening depth below his body, and his mind foreknew the lagging endlessness of torment before him, so, as if the lightning had brought an inner illumination also, he knew the greater gulf of despair above which his spirit hung, helpless and aghast. God did not now, nor would in any further future, prevail. Once he had come, and died. If he came again he would die, and again, and so forever, by his own will rendered powerless against the free and evil will of men. Then Aske met the full assault of darkness without reprieve of hoped-for light, for God ultimately vanquished was no God at all. But yet, though God was not God, as the head of the dumb worm turns, so his spirit turned, blindly, gropingly, hopelessly loyal towards that good, that holy, that merciful, which though not God, though vanquished, was still the last dear love of a vanquished and tortured man.'
This is Easter triumph and Easter joy.
Rejoice in the Lord always
Joy is the keynote of the Easter community. How can one rejoice in an agony such as Aske endured? A feeling of joy and happiness is incompatible with mental suffering and extreme physical pain. But Christian joy, Jesus' joy, is not. Rejoice in the Lord, who is dearer than oneself. Prescott illustrates this poignantly.
Laurence Machyn is sitting, telling his beads by the bedside of his unconscious wife, willing her to live. Since she met him as a child of nine, Aske has been July's obsession. Her life has meaning only in him, is wholly centred on him and she cares nothing for her unprepossessing husband, wounding him with her contempt. But Laurence's deep, tender, compassionate love for his child-wife is unimpaired. When July chances to hear that Aske hangs alive in chains, the sense of menace and of the world's cruelty which has haunted her fear-ridden life, now overwhelms her. The worst, the most terrible thing that could happen is happening. She hangs herself. Laurence finds her just in time.
It was as he got up and leaned over her that she remembered, and she whispered before he could speak –
'He hangs alive in chains. He is not dead.'
Laurence sat down again. Now she did not even hear the clicking of his beads, and again she lay, simply staring upwards.
'Wife,' said Laurence suddenly, 'we must pray God for him.'
She cried so that it tore her throat – 'No. He [God] made pain, he chose it for himself.'
That was all she could say, and Laurence must guess the rest. God had made pain, so that all the universe was corrupt with it, God would do nothing to help one who, hanging in chains, moved yet.
Laurence stood up, and again bent over her. But this time he took her hands in his and held them closely.
'You do not understand,' he said. 'There's nothing to fear in pain. Love makes it all different. I love you. If I might suffer for you I would be glad.'
Love makes it all different
Spontaneous feeling apart, joy is the heart's choice to find its satisfaction in what pleases the beloved. Such was Jesus' joy. 'These things I have spoken to you, that my joy may be in you and that your joy may be full' (John 15:11). Jesus, no more than Aske, could have felt joy in his agony. Nevertheless it was a supreme joy to suffer for his Beloved and for us. 'If you loved me you would be glad…'
Notes
1. Hilda Prescott, The Man on a Donkey (London: Phoenix Press, 2002).


---